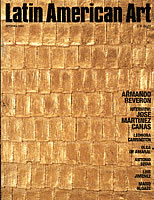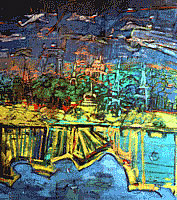 The inventive carlography in the recent paintings of the Argentine artist Liliana Golubinsky, offers a witty and timely comment on the occasion of the 500th anniversary of the arrival of Christopher Columbus in the New `World. This exhibition in Boston at the recently launched Vincent's Obsession gallery, featured a number of canvases as well as works on paper. These appealing works combine bravura brushstrokes, droll figuration, and bright pastel colors. The images are found through the process of painting and evoke a sense of spontaneity and surprise. The artist does not proceed with a preconceived agenda, so her work is painterly, existing independently from the mere illustration of an idea of a map or landscape.
Layers of thin color wash are scrubbed into the canvas allowing for a feeling of sketchiness and transparency. Using a thin medium leaves a matte surface that is then enhanced by overlaying the paint with pastel. As forms and areas are suggested through this evolving process they are clarified and brought to resolution. At this state, literal elements of the landscape are indicated as well as such semiotic elements as small boats or Spanish galleons. A careful study of the paintings also reveals anthropomorphic elements of amphibian life.
In a departure from the main theme of the show, Golubinsky has included a landscape view of the city in Paris which portrays seven Eiffel Towers, as well as the famous Sacre Coeur and a flock of jumbo jets making for congested traffic over the French capital. The painting undoubtedly recalls a melange of travel impressions and underscores the elements of memory and surrealism in her work.
The paintings of this artist exhibit a sense of exuberance, but in their formal qualities and sophistication, they are serious works that demand critical attention. Clearly, the artist is having fun and the viewer is invited to share this experience.